Save with a High-Efficiency
Air Conditioner

Replacing your current Air Conditioner with a new, more efficient unit can save you a significant amount of money on your monthly energy bills. Air conditioning systems are rated on their efficiency and given a Seasonal Energy Efficiency Ratio (SEER) value. The higher the SEER value, the more efficient the air conditioning system is. Older air conditioning systems typically have a SEER value between 8 and 12 whereas newer AC systems range from a SEER value of 13 - 25 and are significantly cheaper to run.
Using the Seer Savings Estimator
The estimator below can be used to help calculate how much you can save by upgrading your existing AC system to a more efficient one. To use the estimator, select how many tons your current system is and what its SEER rating is, and then adjust the settings for the newer unit. The Estimator will estimate the amount of energy used annually and the cost to operate your system based on current energy rate averages in Atlanta, GA. You can also view long-term savings estimates for five, ten, and fifteen year periods.

SEER SAVINGS ESTIMATOR
HOW MANY TONS IS YOUR SYSTEM?
SEER VS

ON A TON AIR CONDITIONER*
YOUR
CURRENT

A/C
consumes around
in electricity per year
YOUR
NEW

A/C
will consume around
in electricity per year
*Based on cents/KWh (average price in Atlanta, GA). Also based on yearly cooling hours average for Atlanta, GA
(Estimated with weather data from ASHRAE: 2017 ASHRAE, www.ashrae.org. Used with permission.) This calculator is only intended to give you a rough estimate. The savings are not guaranteed and depend on various factors.
See Our Package Options
PREMIUM HOME

Trane XV20i TruComfort™ Variable Speed
Most Efficient & Quietest
Up to 22 SEER - Variable Speed
TruComfort Innovation 750 Stages
No Temperature Swings

Lower Utility Bills | up to 64% avg Energy Savings
Industries Quietest System at 55db
Longer Lasting
BEST HOME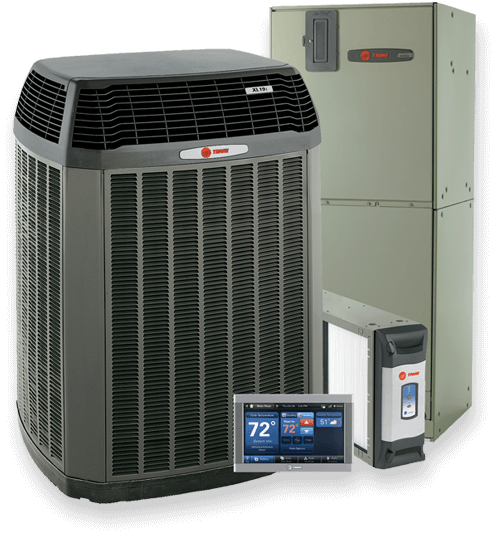 Trane XL18i Series Air Conditioner
Performance & Value
Up to 18 SEER - High Efficiency
Two Stage Comfort and Efficiency

Low Utility Bills | up to 56% avg Energy Savings

AC Adjusts with Seasons and Time of Day

Longer Runtime Enhances Filtration
Quiet Operation at 73-74db

BETTER HOME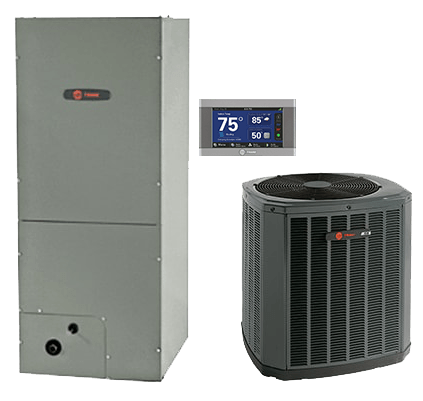 Trane XR16 Series Air Conditioner
Best Value
Up to 17 SEER - Single Stage

Variable Speed Furnace Provides More Comfort
Reduces Hot and Cold Spots

Lower Utility Bills | up to 54% Energy Savings
Quiet Operation at 71-72db
BASE HOME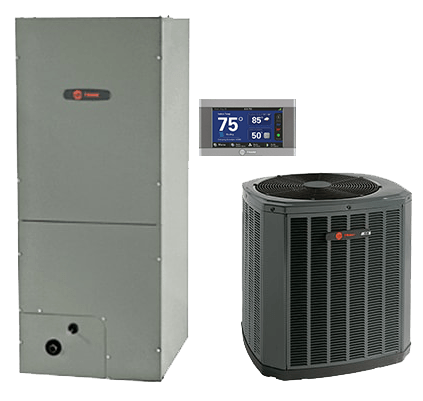 Trane XR14 Series Air Conditioner
Economical
Up to 16 SEER
Simple On/Off Operation Inside and Out
Lower Utility Bills | 40% Energy Savings

Least Expensive Upfront Cost

Highest Ongoing Operation Cost
Get a FREE Comfort Consultation by filling out the form below
Schedule your free no-obligation in-home estimate now.