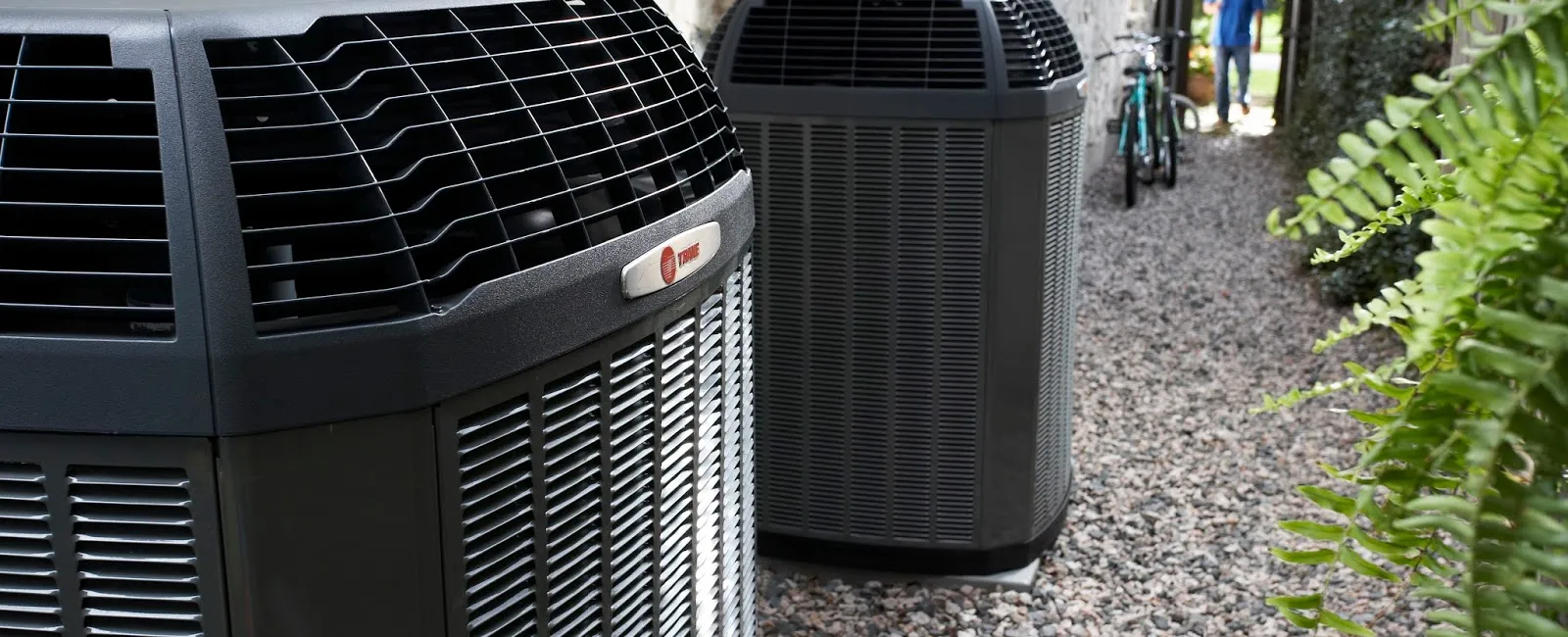 Reliable Heating & Air
Atlanta's #1 Trane Dealer
How Can We Help You Today?
I need to...

Your Local Trane Dealer &
Trane Service Provider
Reliable Heating & Air is ready to help with all your Trane heating & cooling needs. With 3 locations across Metro Atlanta and 200+ trucks on the road Reliable can deliver prompt Trane service and expert repair and installations for Trane air conditioners, furnaces, heat pumps and air purifying systems.

Take Advantage of These
Specials
EXPERT HEATING & COOLING SERVICE, REPAIR AND NEW SYSTEM INSTALLS
When it is time to repair or replace your HVAC system, a Reliable Heating & Air certified technician will offer expert guidance and provide you with options that are right for you and fit into your budget. For more than 40 years, we have provided quality, reliable air conditioning service to the good people of Atlanta with the strongest products and the best warranty. As the Nation's #1 Trane dealer, we install and repair a brand you can trust, and with our lifetime repair and maintenance warranty, our customers are never caught off guard by costly repairs.

WE ARE TRANE COMFORT SPECIALISTS
As Trane Comfort Specialists, our Reliable technicians receive continuous training on the latest heating and air technology, and as a company Reliable is committed to providing Atlanta families and businesses with the best service possible. Our expert technicians specialize in the following areas: HVAC installation, furnace, heat pump, AC & ductless repair & installation, annual tune-ups, air purification, energy efficiency and financing options.
WE SERVICE ALL SYSTEMS & BRANDS
Even if you do not currently own a Trane system, our certified technicians are trained to service all brands and system types, including, but not limited to: Carrier, Lennox, Goodman, American Standard, Rheem, & Bryant.



EXPERT HEATING & AIR REPAIR
You can trust that Reliable Heating & Air will quickly get your system operating again. As an authorized Trane dealer, we offer the following:
As a Trane AC dealer, we offer: 24/7 AC repair, annual tune-ups, AC installation, ductless mini-split system repair and Trane AC parts servicing
As a Trane furnace dealer, we offer: 24/7 furnace repair, annual furnace tune-ups, furnace installation and Trane furnace parts servicing.

As a Trane heat pump dealer, we offer: 24/7 heat pump repair, annual heat pump tune-ups, heat pump installation and Trane heat pump parts servicing.
Our Commercial HVAC department also specializes in Trane Commercial products repair and replacements for businesses and condos.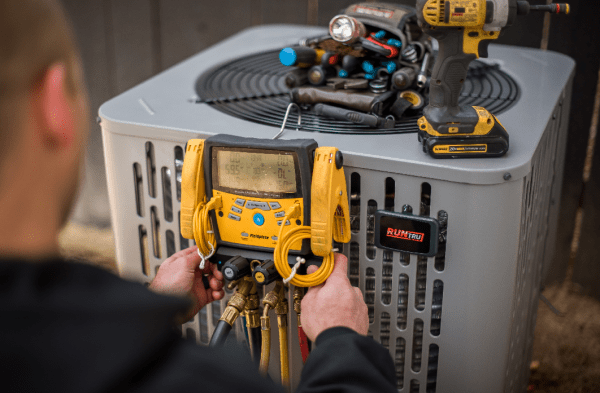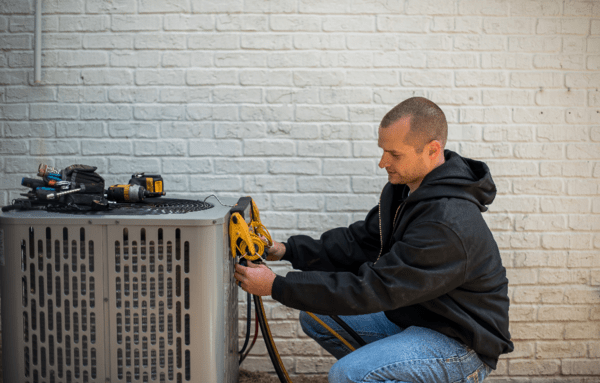 WHEN YOU'RE READY FOR A NEW SYSTEM
When the time comes to replace your system, our certified technicians will do a thorough analysis of your homes needs and recommend a system that is right for you and your budget. We will walk you through all of your options, including all energy-saving and clean-air features available and give you a straight forward estimate so you have all the information you need to make the right decision. Our specialists will make you aware of all warranty options available, including our Comfort as a Service plan which includes free repairs and maintenance for life.
TAKE ADVANTAGE OF OUR
FINANCING OFFERS
Save Your Money With
Comfort As a Service
Enjoy all the benefits of a new Trane heating & cooling system WITHOUT the burden of costly repairs, maintenance, financing charges or coming out of pocket for unexpected thousands
Our Many Options For
Financing
Reliable offers flexible Atlanta home improvement financing thats allows our customers an easier way to make payments and focus on their home improvement projects.
It Only Takes A Second To
Get Started
IT'S HARD TO STOP A
Trane
After searching, reviewing and evaluating several companies long and hard my husband and I called Reliable. They were kind enough to send Mr. Riddick to our home. He did a painless evaluation and sat down with us. His presentation was awesome making our decision very easy to make. A few days later I had the pleasure of meeting our technicians Terrell and Jared. They called me before they came and when they arrived they were very respectful and nice men. These two gentlemen worked very hard and great together. They explained to us everything that we needed to know. And when they left our home you wouldn't had known they had been there. They picked up after themselves as they worked. We're so happy to have air conditioning again and I can't wait too have great heat in the winter. We purchased a Trane 3.5 ton 16 SEER and its big and it works beautifully.

Lori
I just replaced my 15 year old HVAC system with a new 2-Ton Trane system. After consulting with and obtaining quotes from 5 different HVAC contractors, I chose Reliable Heating & Air because of their excellent reputation, product quality, service, warranty and the overall value of their proposal. The salesperson, Vic Edens, was very knowledgeable, professional and took the time to make sure I got the right system for my home. The installers, Jorge and Eric, were on-time, professional and efficient. I am very pleased with my new system and would absolutely recommend Reliable Heating & Air to anyone in need of such service.

Robbie
I had a Trane multiple zoned variable speed ac unit installed by Reliable heating and air several months ago which was quite involved and took nearly all day to complete, however everything went very smoothly and the installers were great at explaining the process and cleaning up afterwards plus my electric bill is over $100 less each month!

Roy
During the hot summers and cold winters, I really depend on Reliable Heating & Air to keep my two Trane HVAC systems running perfectly. Today Eric performed my Gold Maintenance check-up on both my systems and did a superb job. Thank you Eric and Reliable for allowing my family and I to "reliably" stay comfortable in our home, month-to-month, year-to-year!

Marc
I have been a customer of Reliable Heating and Air for many years. Last May I replaced both HVAC units in my home with Reliable Trane systems. Today I had scheduled routine maintenance on my units, I had the pleasure of having Deon Triplett service them. He was professional, courteous and took his time to give me the best, quality service. What a nice young man, it was a pleasure meeting him and going forward will always request him. Thank you Reliable for being my 1st choice and thank you Deon, my #1 choice in service technicians. Keep up the good work! Sharon in Alpharetta

Sharon
Last September, both of my HVAC units went out. I met with Lee Cook, who gave me a quote and explained everything in detail. In April 2019, I had two Trane HVAC units installed by James, Cameron, Ryan, and Jared. They were very professional. They removed the old systems and installed the news systems and didn't leave a mess. They showed me the new equipment and made sure both units were in working order before leaving. They arrived on time and worked diligently throughout the day. Now that the weather has gotten hot in Atlanta, I am very grateful that I had the two units installed. My home is cool and comfortable and I am not worried that I will come home to a hot house, because the AC units have gone out. Thank you, Reliable Heating and Air for providing me with quality service, equipment, and peace of mind.

Alyssa
Darrell and Quentin did fantastic installation work of two Trane AC units and two furnaces. Our house had some units that were on their death beds and last Summer was unbearable. The house is now back on its feet and better than ever - great climate in here. The technicians were knowledgeable and friendly and walked me through everything, including in-depth thermostat usage. When our third AC unit goes out, (which it will...) I will only request the stellar work of Darrell and Quentin.

Antone
I purchased the service plan with my new central heating and cooling system a couple years ago and the service technicians in this case (Pete Schroeder) have all been very helpful and pleasant in providing very timely service. They take the time to explain what service they are performing and took the time to answer all my questions. Great folks, great service and great Trane HVAC system! 5 Star + rating! Being responsible for installation and maintenance of Electrical Power and HVAC systems for large commercial buildings, I can appreciate the knowledge and service your technicians perform and the quality and reliability of the Trane systems.

Robert
Thank you Reliable for sending two great HVAC Technicians to restore warmth and heat to our very cold home after our furnace broke. Josh and Chris did a fantastic and professional job of removing our broken furnace and installing our new XC-80 Trane Furnace. Thank you Reliable for promptly responding and for our HVAC Comfort Specialist, Lee Cook. Always a great experience working with Reliable Heating and Air.

Gayle
Great job today by Darrell and Quentin, installing our new Trane HVAC system from Reliable. They were both very polite, courteous and professional in their approach to the job and interacting with me and my wife. Did a great job reviewing the system operation, recommended maintenance items with me and answered all our questions.

Mark
OUR TRANE SYSTEM
PACKAGE OPTIONS
IT'S HARD TO STOP A TRANE
Trane Systems are Tested to the Max
We know Trane systems are unstoppable because they are thoroughly tested in Trane's System Extreme Environmental Test (SEET) lab, which puts all systems through the rigors of extreme heat and freezing temperatures. Systems go through years of wear and tear in only a couple of months, and these tests ensure a product we can count on and one that will withstand anything. It is one of the reasons Trane products are considered legendary for their reliability.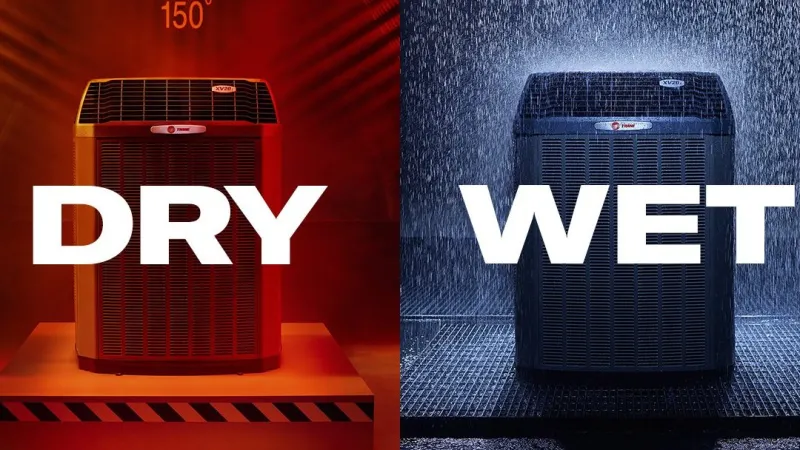 ENERGY EFFICIENCY
Trane Systems Can Save You Up To 62% In Energy Costs
Everyone is looking to decrease their homes heating and cooling costs and Trane's TruComfort™ Variable speed systems are the perfect solution. The Trane TruComfort™ system runs at the speed necessary to maintain your homes set temperature automatically adjusting up and down within one-half degree of your setting and constantly circulating air. The benefits include cost savings on utilities from a system that can peak at 21 SEER!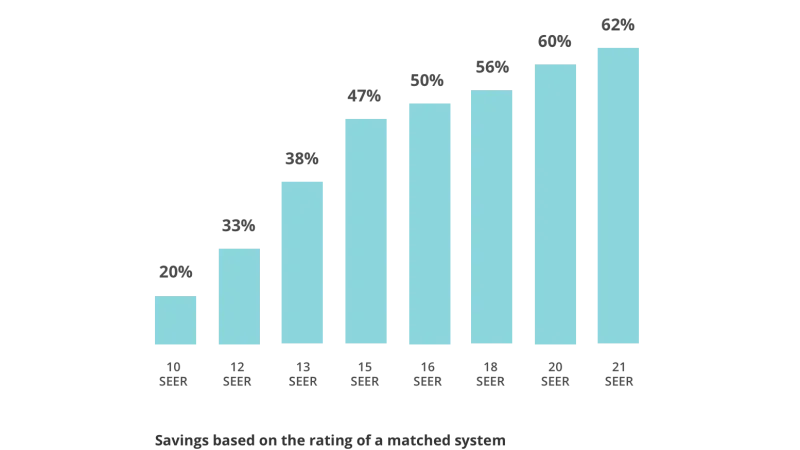 An HVAC Brand
You Can Trust
At Reliable Heating & Air we offer every customer whose system we work on a 100% satisfaction guarantee so it is important to us that we install HVAC brands that we trust, and that you can count on. This is why we are a Trane Supplier and recommend their systems to all our customers. Having served Atlanta families and businesses since 1978, we have worked on many systems and time and again Trane products prove themselves the best. And not only do you receive a reliable Trane system when you choose us, but you also receive an unbeatable warranty that includes free repairs and maintenance for life.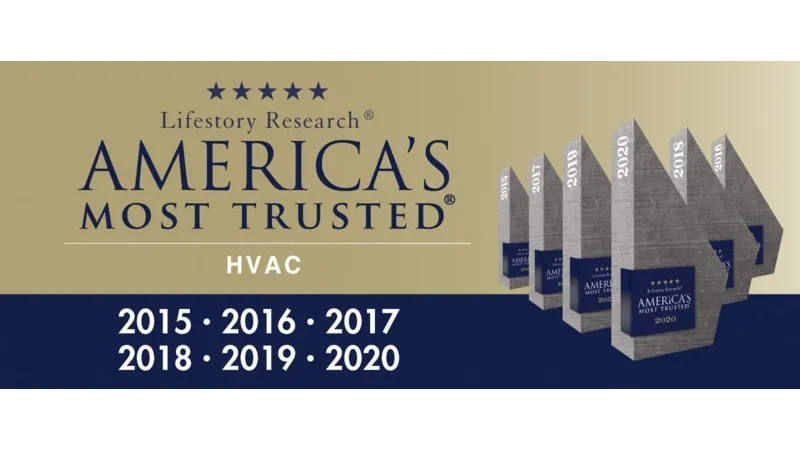 #1
Trane Dealer
In The Nation
200+
Technicians On
The Road Daily
$0
No Extra Charges
For Emergencies
Working With A Trane Comfort Specialist Means You're
Working With The Best
If you experience a medical or legal problem, or have an issue with your car or an appliance in your home, you would see a specialist: Someone who specializes specifically in solutions to the problem or issue you are experiencing. A specialist in any field has an in-depth knowledge in a specific area or field, is familiar with the issues and problems that can occur and can recommend the best solution for overcoming trouble you may encounter. You would likely not see a podiatrist for an eye exam, right?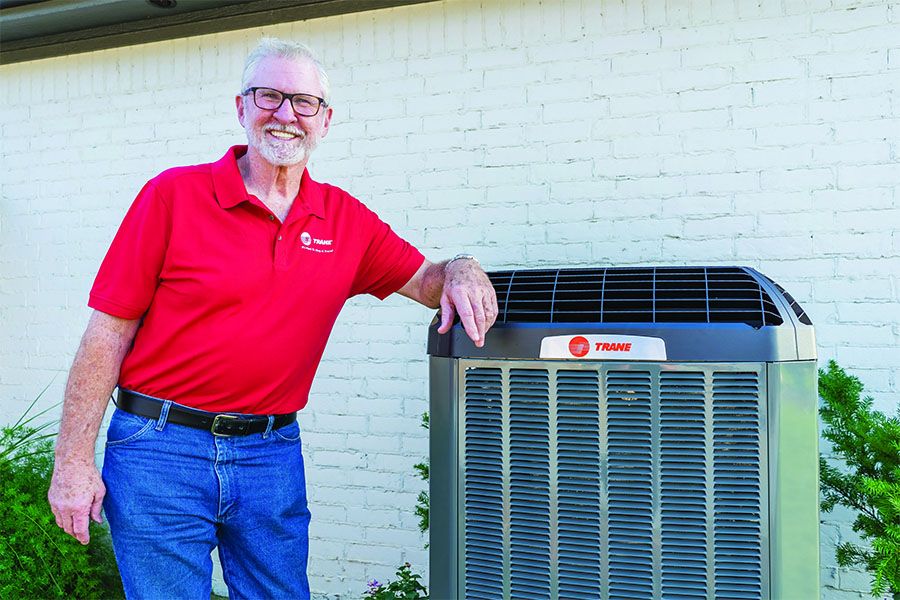 Trane Comfort Specialist
A Trane Comfort Specialist is no different. A Comfort Specialist Dealer, such as Reliable Heating and Air, is an HVAC dealer that has been selected by Trane to be among its elite representatives. Most any HVAC sales and service company would want to represent the Trane brand in its territory, but with Trane, the process is different. Trane is the manufacturer of some of the highest quality heating and cooling products in the industry. The company maintains a sterling reputation among HVAC pros and consumers, alike.
Trane, therefore, has extremely high standards for its representatives and is quite particular when it comes to selecting dealers in a territory. In many cases, an HVAC company that wants to carry a brand of products simply has to call a manufacturer and say, "Hey, we'd like to sell your products." A sales rep pays a visit, takes an order and — boom! — they're in business. Trane, on the other hand, decides whether a company is qualified to represent its brand.
When Reliable sought to be a Trane dealer, the company took a look around — "kicked our tires" if you will — went over the way we do business, checked out our customer reviews and investigated our reputation in the Atlanta area. It wasn't until Trane did all this footwork that they decided Reliable Heating and Air was worthy of representing the Trane brand.
Simply becoming a Trane dealer, though, is not the end of the journey: It's just the beginning. Trane keeps track sales and customer satisfaction. A dealer that maintains a customer approval rating of 90 percent or above is designated a Trane Comfort Specialist. With more than 5,000 5-star ratings, Reliable is among this elite group of Trane dealers, offering the best service, along with quality Trane products, from our 3 convenient locations across Metro Atlanta.
Because we value our customers above all else, and pride ourselves on being a Trane Comfort Specialist dealer, Reliable strives to give you the best customer experience possible. Not only because of our commitment to bringing you the best heating and cooling products on the market, but because our business is based solely on customer service: No customers, no business.
So, when you see that Reliable Heating and Air is a Trane Comfort Specialist dealer, you can rest assured that you'll get unparalleled products and services from our team of professional HVAC techs. As you would with any other issue that needs a specialist, call Reliable for your Georgia HVAC needs.
Our Current Prices on
Trane Products
It Only Takes A Second To
Get Started