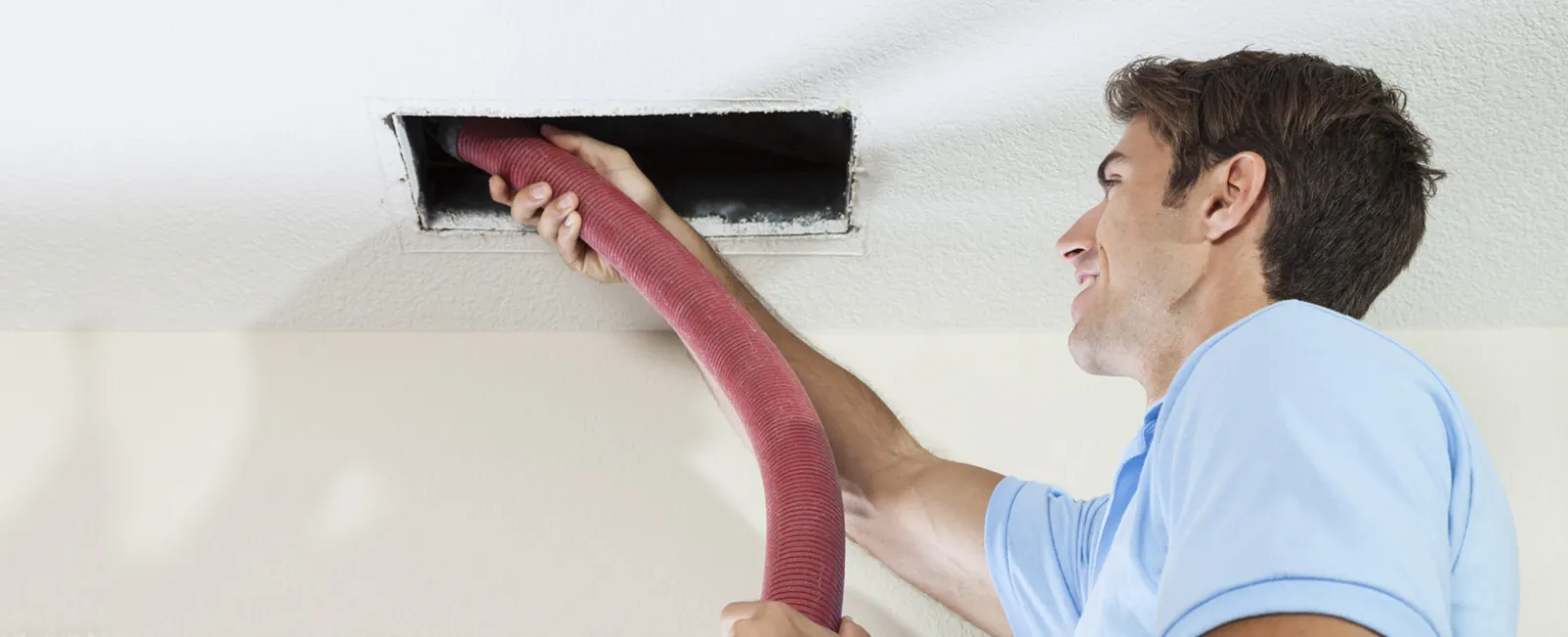 Reliable Air Duct Cleaning
in Atlanta
HOW CAN WE HELP YOU TODAY?
I need to...
Don't Trust Your Air Duct Cleaning To Just Anyone
About Our Duct Cleaning Process: Reliable's duct cleaning is NADCA (North American Duct Cleaning Association) certified: this is the highest standard in air duct solutions. We utilize a 3 stage HEPA vacuum so that even the air dispersed will be 99.99% clean (hospital grade).
Unlike some duct cleaning companies who use hand held vacuums to clean a few feet into duct work, at Reliable we use an agitator, called a power whip, which runs the entire duct run, beginning to end. Our vacuum, at a minimum, is three times stronger in suction than the HVAC system will ever be.

A Reliable Duct Cleaning includes: full system(s) duct cleaning (all return and supply vents for each system we are cleaning), and a sanitization of the duct work. For a limited time, Reliable is also offering a Free Dryer Vent Cleaning with any complete duct cleaning.
Our Duct Cleaning Services Also Include:
Before & after walkthrough with before & after pictures of the ducts
Removal, cleaning and reinstalling of all the registers
Power Whip Cleaning of unlimited supply and return duct runs throughout the system (whip that runs down the length of the duct run and twists to agitate all debris, which gets sucked into the negative pressure vacuum)
Negative pressure cleaning of duct system at the furnace (negative pressure vacuum hooks up to the furnace. Vacuum suction speed is from 3500 CFM's to 10000 CFMs. Debris goes through a 3-stage filtration system and filters through a HEPA filter. All debris is then enclosed and bagged, then removed from the property)
Dry, brush cleaning of the evaporator coil
Cleaning of the drip pan on the furnace
Installation of new 1" filters (or applicable specialty filters)
Cost of our Residential Duct Cleaning:
$549.99 for the first system, which includes a full system duct cleaning, a dryer vent cleaning and the sanitization of the duct work. $475.99 for each additional system
Reliable also offers Commercial Air Duct Cleaning service. Please call us to schedule a free on-site consultation.
Service Overview
Price: $549.99 - most companies give a cheap price per vent and then upsell you in your home. Reliable's duct cleaning pricing is per system and NO phony upselling.
Average time to complete: 4-8 hours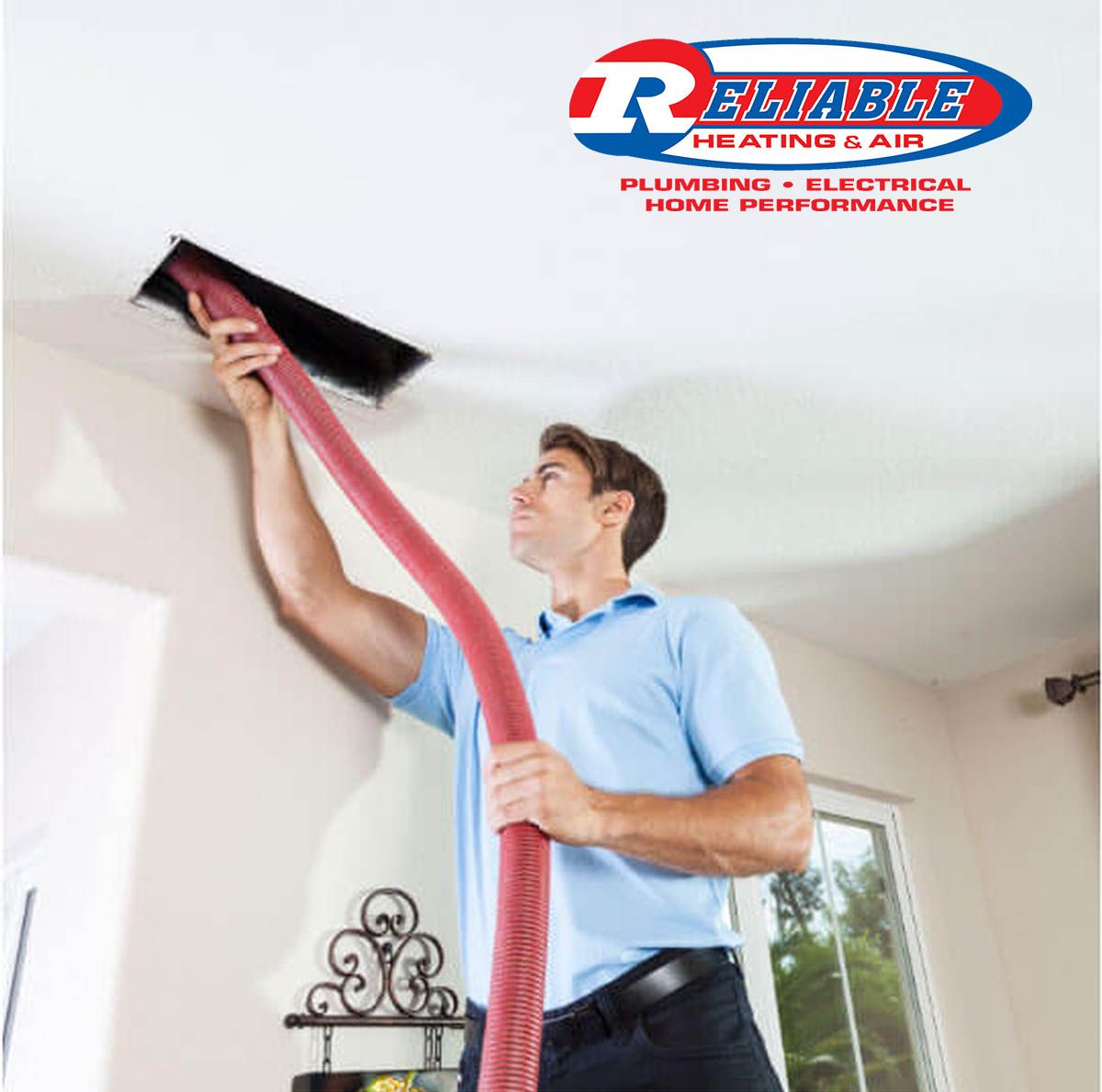 Current Specials
Cheaper Isn't Better When It Comes to Air Duct Cleaning
Make sure you choose a qualified, NADCA -Certified contractor to ensure the job is done right.
When you choose Reliable Heating & Air for your Air Duct Cleaning we will perform a thorough inspection and cleaning of your home's ductwork, and you can rest assured that the process follows industry-leading standards that are safe for your household and your HVAC equipment. Our duct cleaning service is even the type Clark Howard would recommend.
Plus, every service that we offer at Reliable is backed by our 100% satisfaction guaranteed which means you'll never have to worry about the quality of our work - we'll guarantee it. Call us today to schedule an appointment or talk to a Clean Air Professional about the NADCA procedures we follow.
**Please be aware of scammers on Facebook impersonating Reliable and offering duct cleaning services. Reliable does not advertise duct cleaning on Facebook and anyone impersonating us is likely offering inferior service to Reliable's NADCA certified cleanings.

10,000+
5-Star Google Reviews
We had extensive remodeling at our home and felt there was still construction dust recirculating in the house. We called Reliable for a complete duct cleaning. Sam and Jonathan arrived on time and explained what they were going to do. They worked efficiently and professionally. Their work was done with respect to the homeowners. They worked as a team and cleaned up after themselves. After they finished they showed us what they had done. I'd highly recommend them to anyone needing a duct cleaning. We feel we are breathing much cleaner air.

Kathleen
I would definitely recommend this company to anyone who needs air duct cleaning. The service offered by their technicians was remarkable. Everything was explained in detail to us. The work was done perfectly. Will highly recommend.

Alan
Everado did a fantastic job with our dryer vent cleaning. He was very thorough and answered any questions we had. He also inspected our ductwork and explained how the process works. We decided to go forward with the duct cleaning.
Frank
The duct cleaning took 9.5 hours. The technician was polite and knowledgeable. He vacuumed up all debris at the end. He showed me the dirty vents and filters through out the process. Extremely happy with the service.

Nancy
Great service for duct cleaning and inspection. Worked around my schedule and seems to have fixed my issue with new construction debris in my ductwork.

Ryan
Josh Marer was great. He showed up on time, was very knowledgeable about the job (duct cleaning) and informed me of exactly what he was doing. He was concerned about my pets getting out when the door needed to be open. He was very competent, efficient and hard working. He also coordinated another service tech to come out when he noticed a problem with the AC.

Betsy
Josh M. was our technician today for a duct cleaning. He was thorough, knowledgeable, and caring. He took time to point out energy saving tips and kept us in the loop for every step of the process. Josh showed us before and after photos, and even took care of cleaning our dryer vent!

Tiffany
Excellent! So happy with our duct cleaning services. Josh was extremely thorough, professional and personable. After buying an older home with multiple previous owners, we truly appreciate Josh getting everything clean and working efficiently. Thank you! Will highly recommend Josh and Reliable to others.

Jenni
Professional on the phone and at the house. The before and after pictures of the duct cleaning let me know the money was well spent. Excellent work. Thank you!

Will
Every aspect of the work Reliable has done, from their Duct cleaning team, to their new HVAC installers, to their annual inspectors and business office people, has been the epitome of professional.

John
It Only Takes A Second To
Get Started
How to choose a duct cleaning professional
Claim to be certified by the EPA.
The EPA doesn't provide any kind of duct cleaning certification to HVAC companies.

Aren't certified by the NADCA.
HVAC companies certified by the NADCA will comply with industry standards by using safe and proper air duct cleaning methods. To find out if a company is certified, visit the NADCA website.

Won't give you an upfront quote.
This is usually a red flag that the company will charge you more than the rate you agreed to during the estimate.

If a significant number of customers had a bad experience with the company's services, go with a higher-rated company. You can check reviews on sites like Google and the Better Business Bureau.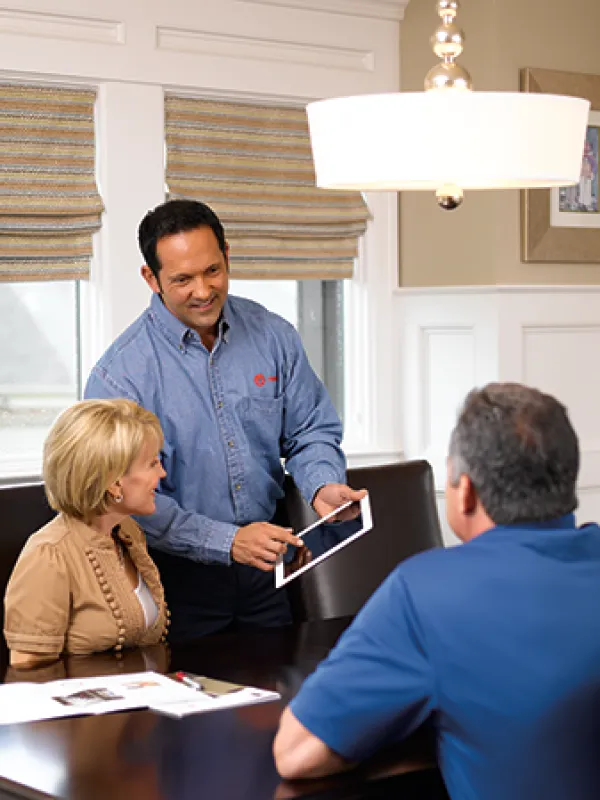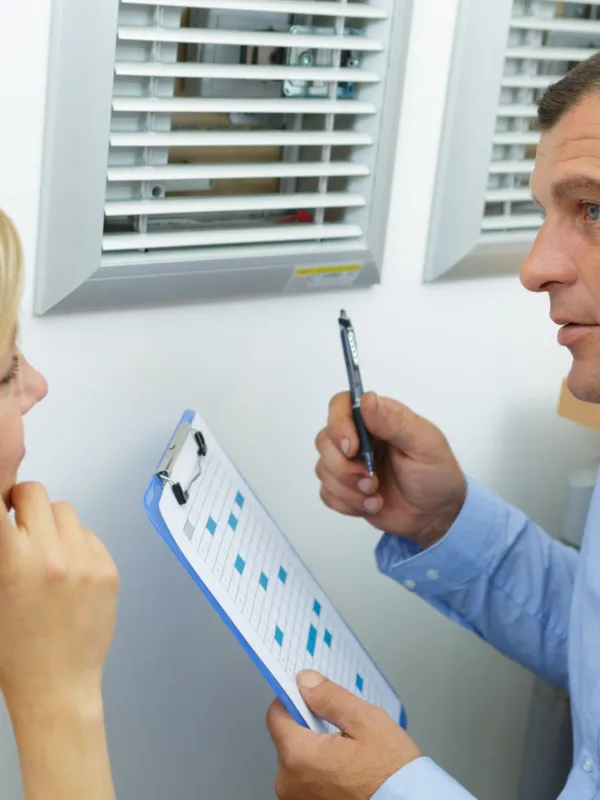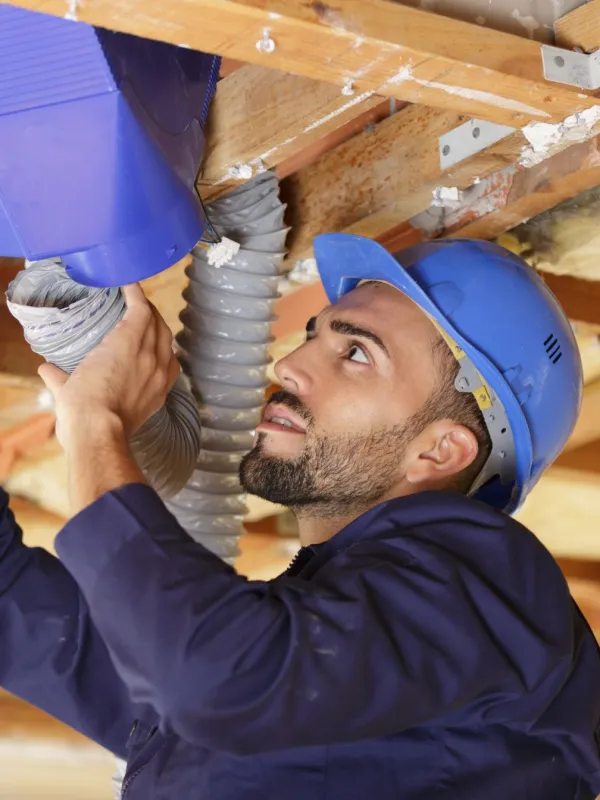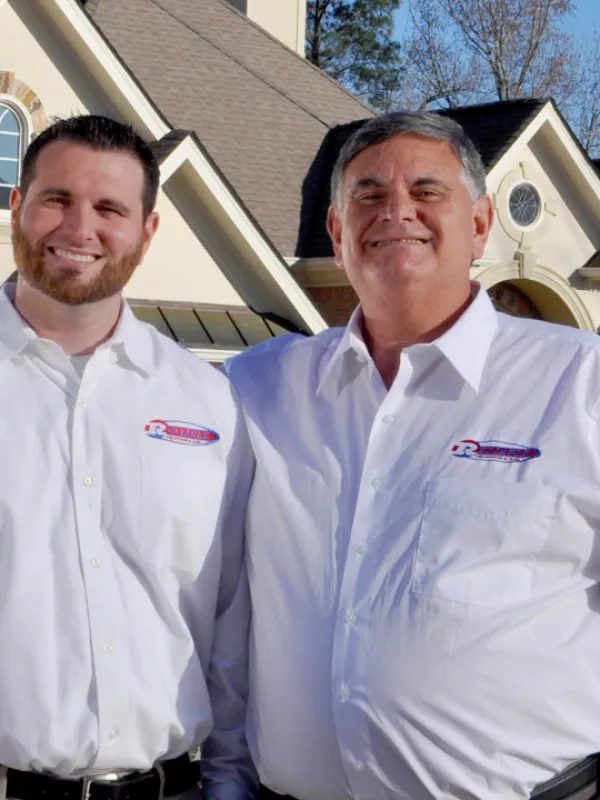 How your duct cleaning works
1
Schedule
We Make It Easy To Keep Everything Running Smoothly
Contact us online or call us at (770) 594-9969 to schedule an appointment. We'll call you to confirm your time and send you a confirmation email with a picture of your tech, so you know who's coming to your home.

2
Inspect
We inspect you ducts to see if they need cleaning
Your tech will inspect your ducts to see if your ducts really need to be cleaned. If they don't, we'll let you know and be on our way. If they do, your tech will give you a no-obligation quote.

3
Clean
We clean your ducts properly
We're certified by the National Air Duct Cleaners Association (NADCA), which means we'll use a proper cleaning method to safely and effectively clean your ducts.

4
Follow Up
100% Satisfaction Guaranteed
Cleaning your air ducts is only half of the job. If you're not completely satisfied with our service, let us know in our follow-up survey and we'll make it right.

DUCT CLEANING AT THE RIGHT TIME GETS RESULTS
The term "duct cleaning" does not accurately describe what actually happens during a cleaning. Yes, the service includes cleaning the ductwork that snakes its way through the underbelly of your home and between walls and ceilings. However, the service also includes cleaning the entire HVAC system. It might be better to refer to the service as "ductwork - HVAC cleaning" instead. This is an important distinction to make, and not just because the service includes both components. If you were to hire someone to clean only the ductwork and not the HVAC system, re-contamination could quickly negate the effects of the service.
What Is Ductwork Cleaning?
When a service professional comes to your home to clean the ducts, the technician uses specialized tools to access all of the ducts in the home. This generally involves using an air whip or agitating brush that winds its way through the ducts and releases dirt buildup on the walls of the duct pipes. A vacuum attaches to the ductwork to suck out the debris and dirt, leaving the ducts clean. The service also includes a comprehensive cleaning of the HVAC system, in which the technician removes dirt and debris from the coil, fan blades and motor.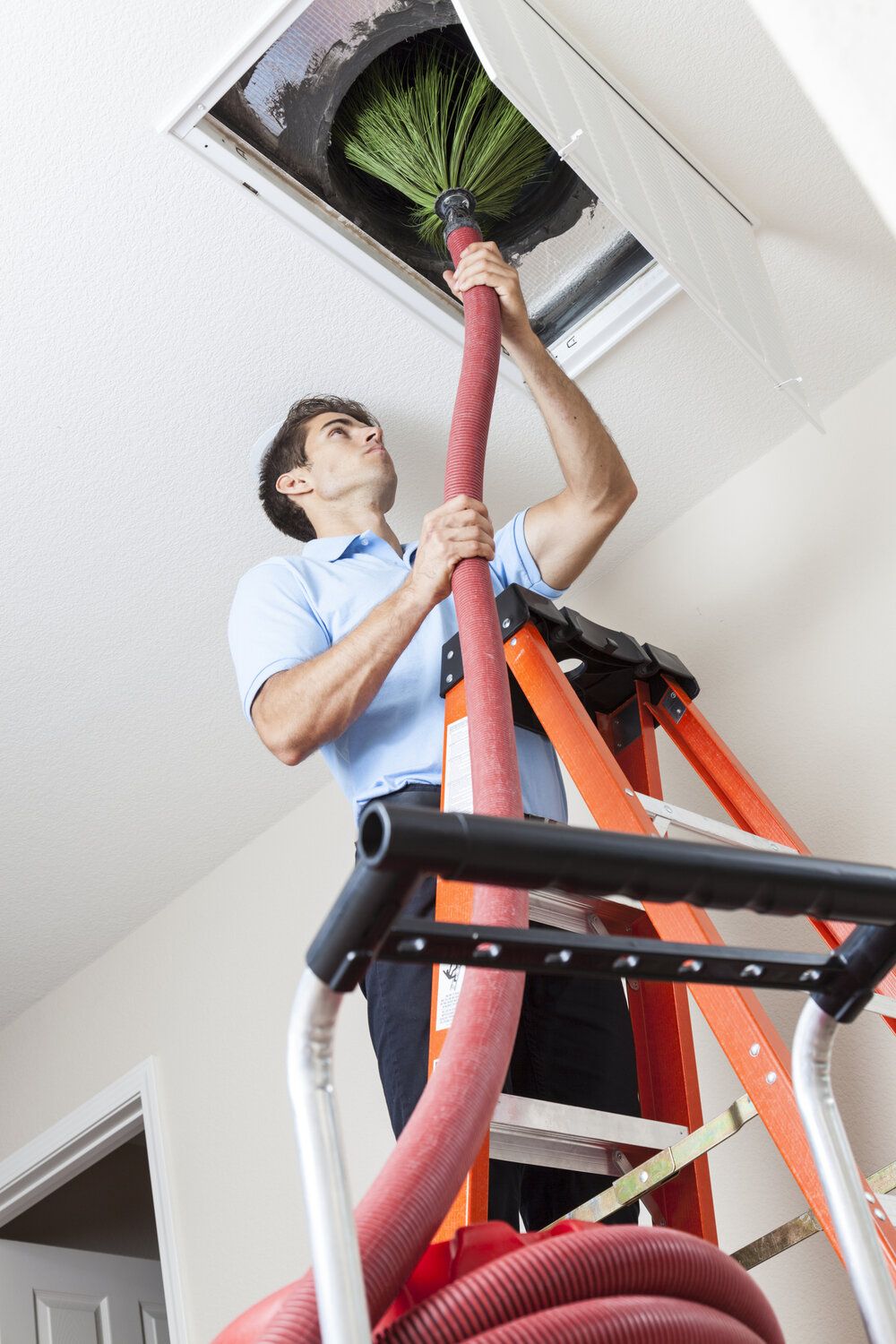 When Should Ducts Be Cleaned?
The Environmental Protection Agency recommends that homeowners clean ductwork only when it shows evidence of vermin or mold or when there is excessive dust in the home. The Canada Mortgage and Housing Association, however, recommends duct cleaning in other circumstances as well:
You move into a new home.
You move into a new construction home.
Airflow in the HVAC system is a problem.
Home occupants suffer from serious allergies, and other steps have already been taken to alleviate symptoms.
Benefiting From Regular Cleanings
A study conducted by National Air Duct Cleaners Association, shows that homeowners can save energy and money by investing in duct cleaning services that include both the ducts and HVAC system. The report found that systems become coated with debris and dirt over time, which clogs ductwork, fans and coils. The organization also reported an 11 percent savings in energy consumption after cleaning "lightly fouled" systems. More significant savings may be possible after cleaning heavily fouled systems. Knowing how often to clean the ductwork to reap the energy-saving benefits is tricky because experts are reticent to develop a hard-and-fast guideline for how often cleanings are needed.
Don't risk your ductwork. Failing to clean your ductwork can result in more dirt and debris in the ducts circulating through your home and affecting its indoor air quality. When it's dirty, the HVAC system also uses more energy to operate. As a result energy bills soar. The initial investment in regular duct cleanings pays off down the line when your home's air quality is up to par and you're saving on HVAC energy bills.
Only hire a reputable duct cleaner with a NADCA certification to clean your ducts. Contact Reliable Heating & Air for more information about duct cleaning services or to make an appointment.
More Air Duct Cleaning Tips
From Reliable

WHEN SHOULD DUCT CLEANING BE A TOP PRIORITY?
The inner workings of a home's ventilation ducts are a mystery to most people, but you can learn quickly if duct cleaning is necessary in your home. Home energy audits by certified inspectors will reveal problems with dust, insects, or mold, all of which could be contaminating the air your family breathes while driving up energy costs. Our customers have options in preventing and treating dirty ducts. Here is key information on the ductwork in your home, and how you can keep the air clean while controlling costs.
The Time for Immediate Cleaning
The Environmental Protection Agency identifies three instances when homeowners should contact a professional to clean your home's ductwork immediately. They are:
When mold is growing. The presence of mold in a home is bad on several counts. It can cause wood and other materials to rot, and it can cause health problems in short order. Insulated ducts that have become moldy need entirely new insulation. Tests determining whether a substance is actually mold can be performed if you have doubts.
If vermin and insects are inside ducts. It's not uncommon for a McDonough homeowner to find vermin and other creatures inside ductwork. If you have an energy audit, the inspector can tell you about the situation within your ducts, and how to respond. All rat feces and animal droppings should be remove by a certified duct cleaning company.
Once dust enters the air stream. A great deal of dust accumulates in the ducts of any home. This store of dust might cut down on efficiency before actually contributing to poorer air quality. Once the buildup becomes significant, however, dust particles will enter the air stream, potentially causing respiratory problems for everyone in the home.
In any of these cases, your family's health could be compromised and duct cleaning should become a top priority. Homeowners can take action to prevent this situation from happening.
Preventing Contamination of Ducts
Homeowners can take pains to keep buildup or mold from reaching your ducts. Here are the best practices for avoiding this outcome:
Use proper system filters and service them regularly. There are several levels of efficiency for air filters, and they are priced accordingly. Use the most powerful kind to ensure a minimal amount of contaminants enters your home's air stream. Change filters regularly to make sure they keep their efficiency.
Have technicians clean HVAC parts during servicing. Regular maintenance of HVAC systems is recommended, and this is the perfect time for you to have cooling coils and other parts cleaned by technicians. This practice will help keep contamination down.
Remove dirt and dust from the main area of your home. When you don't dust or vacuum your home regularly, the buildup can move into your ducts, causing a drop in air quality. Vacuum regularly to maintain high air quality and change the bags on the vacuum so there is no excess buildup there.
Duct cleaning may become necessary once an infestation is present, or after a period of neglect. Clear ductwork means safer air and lower energy costs for your family. Talk to Reliable Heating & Air technicians about an inspection of your ducts during a full energy audit.
WHO SHOULD PERFORM DUCT CLEANING SERVICE
Have you tried nearly every measure imaginable to improve the indoor air quality of your home? Your next step should be to search 'duct cleaner near me' and find a company who uses NADCA certified technicians. The Environmental Protection Agency (EPA) advises homeowners on the different scenarios that call for duct cleaning, and the organization also recommends that homeowners use a properly certified technician to perform the task.
WHEN SHOULD YOU SCHEDULE CLEANINGS?
The EPA recommends scheduling duct cleaning in only a few specific instances:
When there's evidence of water damage in ductwork
If testing reveals that there's mold in the ventilation system
When dust and debris build up in the system, affecting proper airflow
If you see a noticeable pouf of dust released from the supply ducts when the HVAC system cycles on
When foul odors emanate from the HVAC system or ducts
WHO SHOULD PERFORM THE SERVICE?
Significant buildup of mold, dust and debris inside the ducts can wreak havoc on your indoor air quality and contribute to worsening symptoms for those who suffer from dust allergies. Before you pick up the phone and call a duct cleaner, consider the value of your HVAC equipment, ductwork and home. It's imperative that you hire an expert well-versed in EPA duct cleaning to look after your investments and your equipment.
The EPA recommends hiring a technician who holds certification through the National Air Duct Cleaners Association (NADCA), the only organization that exists to standardize the highest-quality duct-cleaning practices. Only work with a contractor who has at least one staff member certified as an NADCA Air Systems Cleaning Specialist. These technicians will follow standard duct-cleaning steps, such as:
Using the appropriate tools for cleaning, and avoiding the use of chemical sealants or biocides
Entering into the ductwork through the optimal access points, such as doors or access ports, to thoroughly clean the system
Inspecting the ductwork prior to cleaning to ensure that asbestos isn't an issue
Using a special vacuum with sealed exhaust or a HEPA vacuum to prevent contamination from entering the home
Having the experience and training to use duct-cleaning tools to safely dislodge debris without damaging ducts
Using special tools for ducts constructed of or lined with fiberglass, which are easily damaged
Properly resealing access ports once finished with duct cleaning
Including the heating and cooling equipment and the ductworks related components in the cleaning regimen, being careful to clean the coils, blower fans, drainage system and so on. Failing to clean all of the components will lead to the system becoming quickly recontaminated
Conducting a thorough inspection of the system once the cleaning has concluded, checking components such as the heat exchanger, coil fins, blower blades, air-handler compartment, return-air plenum, filters and air registers and grilles
Running the HVAC system after cleaning, checking that it operates properly in cooling and heating modes, and ensuring that air leakage is nonexistent
With the technicians at Reliable Heating & Air of Atlanta GA performing a thorough inspection and cleaning of your home's ductwork, you can rest assured that the process follows industry-leading standards that are safe for your household and your HVAC equipment. Call us today to schedule an appointment or talk to a technician about the NADCA procedures that we follow.
MORE ON DUCTS - BY DAN JAPE
One of the most important aspects of your home's heating and cooling system is the duct work. Proper duct work can make a huge difference in the comfort and efficiency of your home. I visit four or five customer's homes each day and in the vast majority of them, I find duct work issues that need to be corrected to make sure the new heating and cooling system we install will deliver what is promised in terms of comfort and efficiency. I see a number of customers who simply are talked into replacing the equipment in their home without analyzing the distribution system and they end up with the same poor comfort level they had before they purchased a new system. With this in mind, here are a few tips to help ensure your system works as well as it should for your home.
WITH INTAKE DUCTS, IT'S ALL ABOUT BALANCE.

One of the most frequent problems we find is lack of the proper amount of return or intake duct work. A proper operating system has to have the correct amount of return ducts to match the output of the system. Without the correct amount of intakes, many problems will arise such as lack of cooling capacity, overheating furnace heat exchangers, freezing cooling coils and reduced life of the entire system.

---

Many homes suffer this issue, and it must be corrected when upgrading your HVAC system.

FIBERGLASS IS NOT YOUR FRIEND.

Many homes have duct work built out of fiberglass or duct board. This a foil covered, glue impregnated sheet of fiberglass that is used as plenums or distribution boxes on the top and the sides of furnaces and is a very poor choice for ducting material. It is very porous and rough inside and collects dirt and debris and after a few years of service is always filthy dirty. Mold grows on the inside of this material and it is very hard to keep the corners and seams sealed up to keep air from leaking out in attics or basements.

---

Metal ducts and plenums need to be installed to replace this inferior product when a new system is installed in your home to assure you of proper airflow, comfort, and efficiency.

SPLITTER BOXES MAKE THE PROBLEM EVEN WORSE.

In some extreme cases, I find actual splitter boxes or wyes made of this duct board to try and save money on new home construction. You can find these by looking for boxes made into triangle shapes with many ducts attached to them. These impede airflow, overwork the furnace blower, and provide inferior comfort to the entire home.

---

They have to be replaced to make sure you are getting the full comfort and efficiency a new HVAC system can provide you.

SIZE MATTERS.

The last and one of the most important aspects of your ducts is making sure they are sized properly to deliver the correct amount of airflow to each room in your home. Almost every homeowner I visit complains about the comfort in their bonus room or the room over their garage in a two story home. This discomfort is caused by lack of airflow to overcome the heat loss or heat gain in this special room, which is over unconditioned space and needs more air flow to make this room comfortable.I will never understand why builders ignore this room and provide a space that in many cases cannot be used in peak weather conditions.

---

This problem is easily corrected when replacing your comfort system and should not be overlooked and if it is, the problem will still be there after the new system is installed.
One should never purchase a new HVAC system without having a competent contractor inspect the duct system to assure you that your new heating and cooling system will actually deliver the promise of comfort and efficiency that you should demand from this purchase.
DUCT SEALING MAKES YOUR HOME MORE EFFICIENT
Did you know that one simple task can drastically reduce your cooling bills by as much as 30 percent? According to ENERGY STAR, duct sealing prevents cooled air from escaping through cracks and gaps in the system. This lost air leads to more than just higher energy costs. Here's how to prevent wasting energy and prevent a host of other problems in your Buckhead home with duct sealing.
Get Your Ducts in a Row
The winding series of duct tubes that snake throughout your home's underbelly may be unseen, but they perform a critical task: delivering conditioned air to every room of the home. You can have the most efficient air conditioner known to man, but if the delivery system is faulty, it won't perform to its potential.
Poor connections, leaks and holes let air that's moving through the ducts escape. If you have ducts in the basement or attic, that means you're paying to cool spaces that don't need cooling and where you don't spend much time. Learning the signs of poor duct performance can help you identify scenarios that call for duct sealing. These signs include the following:
Rising energy bills: If you can't connect your higher bills simply to rising prices alone, you may need sealing.
Hot or stuffy zones in areas of the home: If there's significant leakage in a duct running to the family room, for example, that room is probably not getting the necessary load of cooled air for it to remain comfortable.
Ductwork that's located in hard-to-reach areas, such as an attic: If the ducts are hard to access, it's less likely that they've been properly sealed.
Some of the ducts are flexible: Flexible ducts can easily get tangled.
Drive Duct Performance
The simple act of sealing ducts reaps significant rewards. For a low-cost project, you can earn these coveted benefits:
Lower energy bills: When there's less waste in the ducts, your home becomes the recipient of the full amount of air your air conditioner generates.
Better comfort: With the full amount of air being delivered to the rooms in your home, you'll be more comfortable - without having to pay more in cooling costs.
Increased indoor air quality: Backdrafting is a problem when ducts leak, and other contaminants like insulation or outdoor chemicals can also get drawn into the home via the ducts. Sealed ducts prevent this process of contamination.
Sealing Ducts
Work with a professional to identify problematic ducts that are leaking or damaged. Using metal-backed tape or mastic sealant, the pro will ensure each connection is tightly sealed. It's also helpful to hire a professional to do the job because of the other tasks she will perform:
Testing the entire duct system to measure its airflow
Inspecting the ductwork for damage
The ability to inspect the entire duct system, even those portions behind walls and floors
Sealing all components of the ductwork, including registers and grills
Assessing the ductworks insulation
Ensuring the system doesn't allow backdrafting
Alongside an air conditioner tuneup, there's almost no better way to make sure you get the most from your cooling system this summer. Contact Reliable Heating & Air today to schedule an appointment to have your ductwork inspected and sealed. We're happy to help our neighbors with HVAC, indoor air quality, plumbing and electrical services. Just give us a call today!